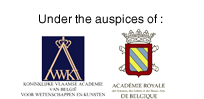 INVITATION
The Aurelio Peccei Lectures & Dialogues-
Enquiries on the Challenges of the 21st Century
96th LECTURE

Tuesday 12 April 2016 at 18:00 sharp
---
The New Economic Model:
Circular Economy and Decoupling.
Dr. Janez Potočnik
Co-chair International Resource Panel (

UNEP

)
Former

EU

Commissioner for the Environment
 
 
Resource constraints, as well as increasing volumes of waste and pollution, are likely to become additional threats to welfare, wellbeing and a sustainable future for the Earth.
They affect the economy, business, profits and – in the end – also the consumers. It is becoming obvious that we urgently need a new economic model. This means decoupling, a transition to an inclusive and circular economy.
The circular economy is an industrial system that is restorative by intention and design. Rather than discarding products before their value is fully utilised, they should be re-used. Currently only a very small percentage of the original product value is recovered after use.
So far, studies on the circular economy focused primarily on the business case for enhanced resource efficiency. A broader perspective, including the social benefits by moving from a linear to a circular economy is needed.
Dr. Janez Potočnik, former member of the European Commission (2004-2014), will share with the audience some facts and thoughts about the way forward. He is Co-chair of the International Resource Panel, a unique science-policy interface on sustainable use of natural resources.
 
[A study report "The Circular Economy and Benefits for Society" by Anders Wijkman, Co-president of the Club of Rome, and Kristian Skånberg, will be offered to the participants.]
Electronic registration with appropriate form is compulsory.
Event contribution: 10 € for the CoR-

EU

members and students; 20 € for non-members.
Venue :
Royal Academy of Belgium, Hertogstraat 1 rue Ducale B-1000 Brussels. Entrance D.
The lectures are delivered by distinguished expert speakers with various backgrounds. They are followed by a dialogue with the audience. Drinks and informal get together afterwards allow for networking and exchanges of views. The cycle of lectures is named after Aurelio Peccei (1908-1984), co-founder of The Club of Rome in 1968.